Contact us direct: Monday-Friday, 9-4 CST, 972-849-9240
email us... telegizmos70@gmail.com
365 Series Covers...
SCT's on Forks, SCT's on forks w/wedge, SCT's on EQ's, Refractors on EQ's
Standard TeleGizmos Telescope Cover links
SCT, Mak & RC Covers for Fork mount & fork w/wedge
GEM and Alt-AZ Mounted Refractors
Dob Covers for vertical to 60 degree down park position
Truss Dob Covers for horizontal to 90 degree down park position
TeleGizmos
The TGLB-12
Dedicated Horizontal Park Position Cover for the Meade 10"-12" Light Bridge Dobs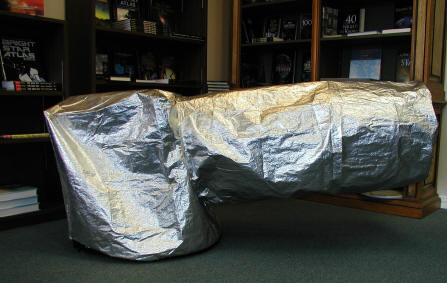 Photo courtesy of The Observatory, Dallas, Texas
We think the new Meade Light Bridge Dobsonian telescopes raise the bar to a new level in the small to mid-size Dob category. As such, we have developed a very unique dedicated cover design for the Light Bridge.
The TGLB-12 incorporates two main sections: A cylindrical truss section with adequate circumference to allow for clearance of the standard mounted finder. The rocker section is box shaped to provide full coverage and enough vertical height for total coverage around the rocker base. Double lap seams with micro stitching attach the these two main sections and provide high water penetration resistance. Combined with our solar material's water proof quality, you can be assured of complete rain protection.
Protection from rain is not the only key benefit of our covers. The radiant barrier effect of our material will protect the scope from harmful UV and heat build-up. This reduction of daytime temperature build in the scope will reduce scope cool down times. The TGLB-12: Outstanding protection for your scope. Currently available for the 12" model, covers for the 8" and 10" available soon.
Price: $89.00 Available at all dealers
The Standard TeleGizmos Solar Scope Covers, when used outside, are intended for temporary exposure periods. For long term continuous 365 outside exposure protection, see the Series 365 Covers.
Meade & Meade Light Bridge are Copyrights of Meade Inc.