Contact us direct: Monday-Friday, 9-4 CST, 972-849-9240
email us... telegizmos70@gmail.com
365 Series Covers...
SCT's on Forks, SCT's on forks w/wedge, SCT's on EQ's, Refractors on EQ's
Standard TeleGizmos Telescope Cover links
SCT, Mak & RC Covers for Fork mount & fork w/wedge
GEM and Alt-AZ Mounted Refractors
Dob Covers for vertical to 60 degree down park position
Truss Dob Covers for horizontal to 90 degree down park position
TeleGizmos
Standard Covers
The TGTP
Protection for tripods
(Now also available in the 365 Series)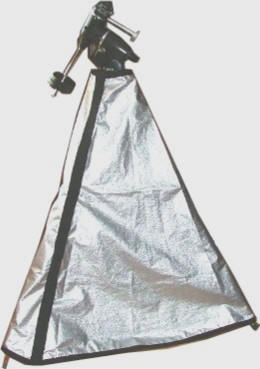 The new TGTP tripod cover is a three panel cover that opens full length on one side. Once wrapped around your tripod, the open side of the cover seals shut with a full length Velcro fastening system. Heavy duty 1 inch welting is wrapped around the top and bottom of the cover. A 2" welting is used on the open seam and has the Velcro fastening system sewn on to it. Four 2 inch spring clamps are included for securing the cover to the lower part of the legs or elsewhere as needed. Used in conjunction with any TeleGizmos scope cover, you now can protect your entire system from top to bottom.
Additional uses:
Many users leave the cover on their tripod while observing or imaging if conditions are particularly dewy. The adjustable top opening allows the user to place the cover over the mount's motor drives and electronics, protecting these components from moisture. Accessory trays can still be accessed by opening the Velcro enough to reach inside the cover.
The TGTP fits all tripods with the following dimensions:
Leg spread up to 50 inches, leg height up to 52 inches. The maximum circumference of top opening with cover closed 27 inches (9 inch diameter). The top opening can be adjusted to a snug fit around the mount using a supplied 2 inch pony spring clamp. Three more 2" clamps are provided to aid in wrapping and securing the cover to the tripod legs.
$63.00
Available now at all dealers
The Standard TeleGizmos Solar Scope Covers, when used outside, are intended for temporary exposure periods. For long term continuous 365 outside exposure protection, see the Series 365 Covers.