Contact us direct: Monday-Friday, 9-4 CST, 972-849-9240
email us... sales@telegizmos.com
365 Series Covers...
SCT's on Forks, SCT's on forks w/wedge, SCT's on EQ's, Refractors on EQ's
Standard TeleGizmos Telescope Cover links
SCT, Mak & RC Covers for Fork mount & fork w/wedge
GEM and Alt-AZ Mounted Refractors
Dob Covers for vertical to 60 degree down park position
Truss Dob Covers for horizontal to 90 degree down park position
TeleGizmos
Standard Covers
Dobsonian Covers for vertical to 60 degree down park position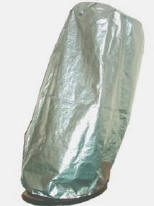 12" Tube Dob w/TG2D Cover
Sizes in dealer inventory:
6" & 8" f5 Tube Dobs TG1D $65.00
62" circumference, 53" height
10" & 12" Tube Dob TG2D $71.00
90" circumference, 69" height
12" & 14" Truss Dob TG3D $75.00
94" circumference, 78" height
16" & 18" Truss Dob TG4D $79.00
115" circumference, 90" height
Meade 16" LightBridge TGLB-16V $79.00
These covers are capable of fitting several other scope sizes. Check your set-up dimensions and reference the stated cover measurements to determine if a cover will fit systems other than those listed.
The Standard TeleGizmos Solar Scope Covers, when used outside, are intended for temporary exposure periods. For long term continuous 365 outside exposure protection, see the Series 365 Covers.
Meade & Meade Light Bridge are Copyrights of Meade Inc.