Contact us direct: Monday-Friday, 9-5 CST, 972-849-9240
email us... info@telegizmos.com
365 Series Covers...
SCT's on Forks, SCT's on forks w/wedge, SCT's on EQ's, Refractors on EQ's
Standard TeleGizmos Telescope Cover links
SCT, Mak & RC Covers for Fork mount & fork w/wedge
GEM and Alt-AZ Mounted Refractors
Dob Covers for vertical to 60 degree down park position
Truss Dob Covers for horizontal to 90 degree down park position
The TeleGizmos Advantage We've got you covered, here's why...
What do our customers say, read these independent customer reviews... CloudyNights Astromart
Visit our sister website: popupgizmos.com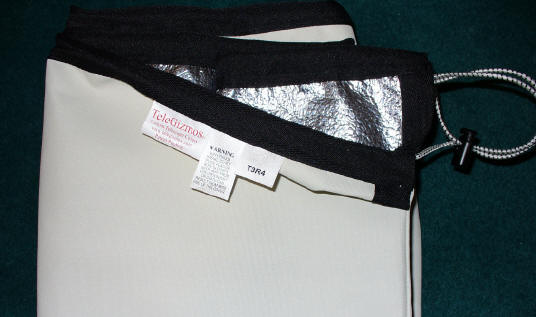 365 Series with inner radiant barrier showing
Introducing The 365 Series Covers...24/7, 365 outside protection.
The most durable cover available
Featured in the 2006 November New Product Showcase of

The new 365 Series Cover System is designed to meet all your equipment cover needs, inside or outside. However, it's real strength is the ability to withstand the demands of continuous 24/7, 365 outdoor exposure. Design and in-field testing for more than year in several weather extremes, the 365 Cover is tried and proven with the warranty to back it up. Read more...
The Original TeleGizmos Solar Scope Cover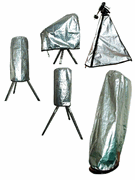 Featured in the 2005 August New Product Showcase of

The TeleGizmos Solar Scope Cover is a multi-layer, polyethylene material with a fully aluminized surface. The heat reflective ability of the cover is extremely high with a material strength equal to a multi-layer light weight tarp.

The material was originally developed for NASA as an insulator in spacecraft. It is very strong, light, tear and puncture resistant and is highly superior to Mylar in durability.

The benefits of the covers are numerous:
Highly water resistant without the need of spray on sealers. Washable.
Highly reflective. True & effective radiant barrier protection.
Greatly reducing scope temperature on scopes left outside in sunlight.
They can be securely fastened to your scope with the built in draw string.
Double lap sewn seams for strength.
Tear and puncture resistant.
Our material has extreme temperature tolerance
We offer the largest selection of size and shape specific covers available.
And if we don't already make it...
We also can produce custom sized covers for almost any type of application Let us know what you need and we will work with you to produce it.
All TeleGizmos covers come with a one year material and craftsmanship warranty.
Proudly made in the great state of Texas
TeleGizmos Solar Scope Covers, TeleGizmos, Telegizmo, are Copyright Trade Marks of TeleGizmos. No usage of these trade marks without written permission is allowed
TeleGizmos in action...sizes big enough to handle the largest set-ups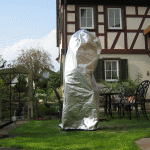 Image courtesy of Matthias Bopp www.dd1us.de
The Original TeleGizmos Telescope Covers
The Standard TG14 SCT Cover
Our custom sized and shaped "Correct Fit" covers with a built in shock cord draw string will provide you with a secure and effective weather protection installation.